As concerns for personal and environmental health continue to build, a growing proportion of consumers have chosen to replace traditional cleaning products with green, eco-friendly products. Despite early skepticism that consumers would actually change their purchasing habits, this shift in purchasing behaviors is hardly unexpected. Sustainability is becoming increasingly important to buyers, especially in household cleaning products and personal care products.
In parallel, the drive to invent sustainable, biobased (or, bio-based) products has also been a growing priority for R&D efforts, both in basic science and industry application (see Figure 1). Per Wellspring Scout data, there has been steady growth in both scientific publications and patenting activity. With three months left in the year, aggregate 2020 innovation activity in biobased technologies has already reached 2019 levels.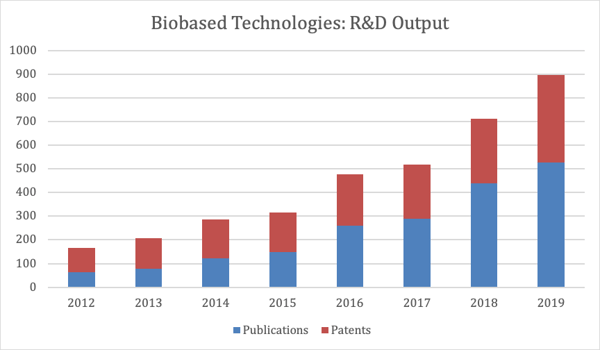 Figure 1. Worldwide R&D output (publications and patents) for sustainable bio-based technologies, 2012-2019. Source: Wellspring Scout data.
Large cleaning product manufacturers have begun making moves, with P&G leading the way (151 patents since 2012), which may explain market launches such as Tide's PurClean product. Others, like SC Johnson, have been expanding their portfolios by acquiring startups and labels with green IP. Many of the prominent names in the household cleaning industry have joined organizations like the American Cleaning Institute, that outline shared sustainability goals like reducing emissions, using resources more efficiently, and building greater transparency for consumers.
Environmentally conscious consumers have influenced similar trends in other industries with their purchasing decisions. Sustainability concerns have allowed meatless meats and dairy alternatives to maintain interest in the food and nutrition industry. Growing eco consumerism has forced packaging-intensive industries to consider new solutions like reusable containers and plastic-free materials.
Although sustainable cleaning products make up a small share of the total market today, they vastly outpace sales growth of traditional products. There are a variety of promising innovation spaces under active development, including vegetable oil and probiotic-based ingredients can be used in place of chemical solvents and disinfectants. For example, rhamnolipids, which can be used as natural surfactants, have seen an uptick in R&D attention (see Figure 2). Another strategy is replacing multiple traditional cleaning products with one multipurpose bio-based cleaner, which is better for both humans and the environment. There's also been active work on developing natural concentrates and green packaging, aimed at reducing or eliminating single-use and/or non-sustainable product packaging options.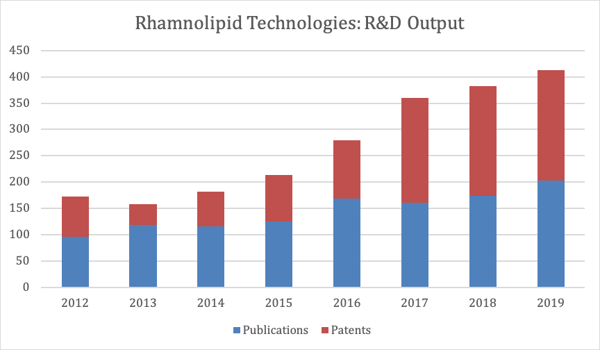 Figure 2. Worldwide R&D output (publications and patents) for rhamnolipid technologies, 2012-2019. Source: Wellspring Scout data.
While consumers want to go green by swapping traditional household cleaning products with environmentally safe alternatives, they likely won't make these changes overnight. They are spending more time researching products, taking small steps towards achieving a more sustainable lifestyle, replacing one product at a time. Organizations looking to either break into the market, or retain their existing market share, should consider doing the same. Here are some opportunities for entry:
Licensable Technology
Genetic engineering method for building Pseudomonas aeruginosa strains with a reduced virulence and increased rhamnolipids production and products therefrom
Startups to Watch
Nimble creates child-friendly household cleaning products made with plant-based ingredients. (See More)
SCD Probiotics develops household cleaning essentials, powered by probiotics and postbiotics for a safe, microscopic clean. (See More)
ProBioSanus uses probiotics and its fermentation products to create innovative cleaning products. (See More)
Branch Basics produces a multi-purpose concentrate that makes cleaning simple, affordable, and sustainable. (See More)
Humble Suds develops multipurpose, chemical-free, and organic household cleaning products that are safe for people, pets, and the planet. (See More)
Truman's offers non-toxic cleaning concentrates that reduce shipping and plastic waste. (See More)
Homethings eliminates the need for single-use plastics with cleaning tabs and reusable glass spray bottles. (See More)
For more insights like this on other trending markets, check out the entire Data Spotlight series or try our search tool, Wellspring for Tech Scouting, today.