With the rise of obesity, diabetes, arthritis, and other health woes, many individuals are turning to food rather than medicine to cure or relieve their ailments. This is not a new phenomenon. For centuries food has been used in lieu of medicine. Turmeric and curcumin have long been accepted as helpful antioxidants with anti-inflammatory benefits. Garlic has been thought to treat a wide array of ailments, from cancer to the common cold. Ginger is said to alleviate nausea. Anecdotal accounts and folk medicine have influenced remedies and treatments for so long that they have become accepted as legitimate. Historically, however, little attention has been paid to the sources of these breakthrough discoveries.
Thanks to increased agricultural awareness and research, we are able to scientifically determine (or debunk) the nutritional value and efficacy of many of these long-held food beliefs, and discover the healing properties of other foods and supplements. Furthermore, we are able to refine the techniques used in production, lowering the cost to bring these "superfoods" to market. Over the past 10 years, the number of food and foodstuffs patents have continued to grow steadily.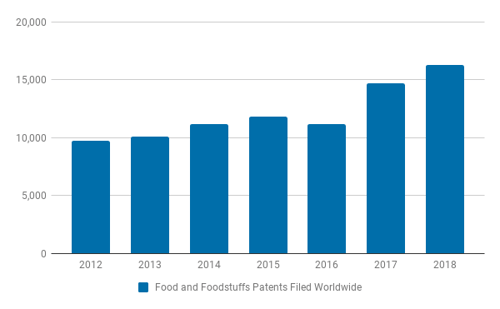 Figure 1. Search results with filters: IPC Class A23; CPC Subclass A23L, A61K, A23C, A23J. Source: Wellspring Scout data
While consumers are influenced by a number of external factors- like advertisements, free trials, and samples- the pressure to stick to a New Year's resolution or reaction to a doctor's diagnosis can be enough motivation for some to alter their habits. But they are also skeptical of new products and solutions, and rightfully so, as consumers have more options now than ever. Making significant dietary changes is an enormous time commitment and can put a financial strain on individuals or families with demanding schedules and tight budgets; buyers are incentivized to purchase food products and goods with research-backed promises.
Whether it is a curiosity to try cannabidiol (CBD) supplements or plant-based proteins or a commitment to eat more organic and lightly processed foods, health conscious and wellness-minded consumers are willing to spend on products in line with their beliefs. Established food manufacturers and startups alike are very well aware of this, monitoring particularly promising trends as the global wellness market continues to grow.
With recent successes like Beyond Meats' record-breaking IPO, corporate attention is growing around nutrition-based wellness and lifestyle products as a growth category. In 2017, food and nutrition accounted for $702 billion of the entire $4.2 trillion wellness industry, and companies want a piece of the pie.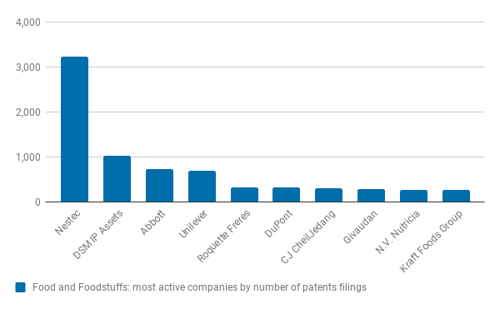 Top companies by number of Class A23 (Subclasses A23L, A23C, A23J) and Subclass A61 patents. Other notable firms include: Intercontinental Great Brands (255), Monsanto (219), General Mills (207), Novozymes (192), BASF (179). Source: Wellspring Scout data
Here are 5 trends dominating the health and wellness industry, generating buzz in academic circles, the corporate sector, and newsrooms:
1. Plant- Based Alternatives
Startups to Watch:
Plantible Foods is a B2B food technology company with the goal to develop the most functional and applicable plant-based protein. (See More)
Alpha Foods is dedicated to returning to the roots of a healthy diet and sustainable industry by bringing you delicious meat alternatives derived from plants. (See More)
Publications to Review:
Consumption of a defined, plant-based diet reduces lipoprotein(a), inflammation, and other atherogenic lipoproteins and particles within 4 weeks.
Plant-Based Diets: Considerations for Environmental Impact, Protein Quality, and Exercise Performance.
2. Personalized Nutrition & Microbiome Mapping
Startups to Watch:
ISOThrive is a nutritional supplement specifically designed to feed the microbiome to enable optimum human health. (See More)
Nutrino is a data platform that gets to know you and your personal biochemistry and how food affects your body. (See More)
Publications to Review:
Addressing the Nutritional Phenotype Through Personalized Nutrition for Chronic Disease Prevention and Management.
Predictors of the Healthy Eating Index and Glycemic Index in Multi-Ethnic Colorectal Cancer Families.
Utilizing nutritional genomics to tailor diets for the prevention of cardiovascular disease: a guide for upcoming studies and implementations.
Microbiome and diabetes: Where are we now?
3. Hemp & CBD Supplements
Startups to Watch:
CB Therapeutics produces pure cannabinoids like CBD and THC using yeast and sugar. (See More)
Re Botanicals curates high quality golden full spectrum plant-based hemp extracts from organic US grown hemp. (See More)
Green Mountain CDB is a full spectrum CBD oil is extracted from the hemp they grow using organic coconut oil. (See More)
Publications to Review:
Cannabidiol reduces airway inflammation and fibrosis in experimental allergic asthma.
Cannabidiol can improve complex sleep-related behaviours associated with rapid eye movement sleep behaviour disorder in Parkinson's disease patients: a case series.
Experimental cannabidiol treatment reduces early pancreatic inflammation in type 1 diabetes.
Cannabidiol: from an inactive cannabinoid to a drug with wide spectrum of action.
4. Dairy Alternatives
Startups to Watch:
NadaMoo! is a dairy-free, gluten-free, all-natural and organic ice cream brand. (See More)
Kite Hill makes plant-based foods like nut milk yogurts and cream cheese style spreads. (See More)
Publications to Review:
Are more environmentally sustainable diets with less meat and dairy nutritionally adequate?
Foods for Special Dietary Needs: Non-dairy Plant-based Milk Substitutes and Fermented Dairy-type Products.
5. Prebiotics
Startups to Watch:
Blue Prairie Brands produces ingredients and related food products rich in prebiotics, which in conjunction with probiotics, help maintain a healthy digestive system. (See More)
Sugarlogix creates prebiotic sugars with functional benefits for your gut health. (See More)
Publications to Review:
Prebiotics as functional food ingredients preventing diet-related diseases.
Targeting gut flora to treat and prevent disease.
As previously stated, health-conscious consumerism is not a fleeting trend. There's a wide number of factors that motivate consumers. Many are anxious to kick off a new, healthier lifestyle, and often that starts with changes to their diet. Investments in this area are critical for the health and wellbeing of society, both for the safety and regulation of production and for the very real wellness benefits and alternative to treatments.
For more insights, check out the entire Data Spotlight series.