Evidence of the global waste crisis - and its causes - are everywhere. No corner of our world is safe, from littered beaches on a secluded islands to overpopulated cities with garbage bins overflowing with cardboard boxes and packaging materials.
While there's no denying that prepackaged and individually wrapped commodities are a convenience, "grab and go" or single-use items are a major contributor to the trash problem. One-click purchases and free two-day shipping have become the norm, but the added expediency comes with environmental tradeoffs.
According to the National Oceanic and Atmospheric Administration, about 8 million metric tons of plastic enter our oceans every year; some studies claim we are on pace to have more plastic than fish by 2050. Similar problems exist on land. Recyclable waste, including paper packaging and cardboard, can still end up in landfills. In addition to the collapse of the global market for recyclables, many facilities are simply overwhelmed by the volume of discarded shipping materials they receive and cannot keep up with their intake.
These problems are driving new consumer behavior that represents both a threat and opportunity for a variety of packaging-intensive industries. An increasing cohort of consumers have made attempts to offset the environmental impacts of the "throw-away" culture. Through their buying behaviors, consumers have shown heightened interest in sustainable solutions, including biodegradable and compostable packaging alternatives. Growing awareness of these trends is driving companies to explore new packaging options that better fit the desires of both current and future customers.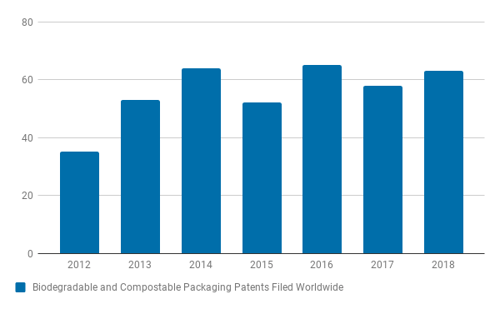 Figure 1. Biodegradable and Compostable Packaging patents filed between 2012 and 2018. Source: Wellspring Scout data
It's this growing environmentalism and public scrutiny that's also forcing manufacturers and retailers around the world to reconsider their inventory, plastic-heavy packaging, and shipping methods. An unexpected leader of this sustainability movement is Walmart. For over a decade, the company has worked towards 3 goals: to be supplied 100 percent by renewable energy, to create zero waste, and to sell products that sustain our resources and environment. The company has made its supply chain greener while also encouraging suppliers to use recycled or bio-based materials in packaging. Others are following suit; having strong environmental policies and initiatives are good for business. Corporate environmentalism- or at least interest in green, "eco-friendly" solutions- has steadily grown year over year over the past decade.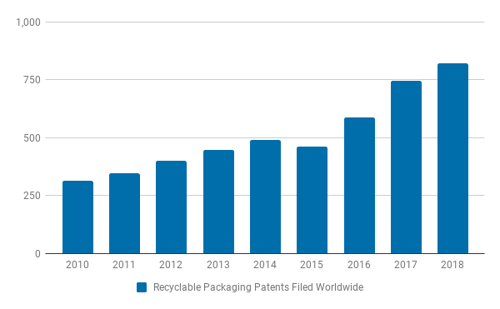 Figure 2. Search results for "Recyclable Packaging" patents filled under CPC Subclass B65D between 2010-2018. Source: Wellspring Scout data
Large and small companies have begun turning to eco-friendly solutions, like using reusable containers, biodegradable materials, and plastic-free packaging. But there is still more work to do and a long way to go. Here are a few inspiring startups, publications, and patents that are leading the way:
Startups
One World Packaging (now PackBenefit) designs and manufacturers a proprietary pulp packaging product, which is fully biodegradable and recyclable. (See More)
Be Green Packaging designs, manufactures, and distributes Cradle-to-Cradle™ certified, tree-free, compostable packaging for the food and industrial packaging industries. (See More)
Tirta Marta is a film-based flexible packaging manufacturer, actively pursuing the latest in flexible packaging and biodegradable plastics technologies. (See More)
Evanesce Packaging Solutions seeks to replace existing packaging technology with truly compostable, organic, sustainable alternatives. (See More)
Green Line Armor manufactures pallets and specializes in packaging, fulfillment and recycling. (See More)
Do Eat develops edible packaging to help reduce the financial and environmental burden of current trends in the food industry. (See More)
Sulapac is biodegradable and microplastic-free material with unlimited design possibilities from packaging to hangers. (See More)
EcoPack creates biodegradable packaging films that dissolves with water, oxygen and naturally occurring bacteria. (See More)
Publications
Biodegradable Rice Starch/Carboxymethyl Chitosan Films with Added Propolis Extract for Potential Use as Active Food Packaging
Plastic waste as a global challenge: are biodegradable plastics the answer to the plastic waste problem?
Model of Eco-Logistics System Based on Circular Economy
Bio- and Fossil-Based Polymeric Blends and Nanocomposites for Packaging: Structure Property Relationship.
Patents
PROCESS FOR FORMING IMPROVED PROTECTIVE ECO-FRIENDLY POUCH AND PACKAGING AND PRODUCTS MADE THEREFROM
Eco-friendly polyurethane elastic packaging manufacturing method
Manufacturing method of eco-friendly food packaging films using sea squirt shell protein and polylactic acid
Method for manufacturing biodegradable packaging material, biodegradable packaging material and packages and containers made thereof
Biodegradable insulative shipping container
BIODEGRADABLE PACKAGING FOR SHIPPING
Container, packaging, and method for producing same
For more insights like this on other trending markets, check out the entire Data Spotlight series or try Scout, Wellspring's search tool, today.