As the effects of COVID-19 continue to ripple through the economy, many tech scouting teams are facing a new and evolving reality. As a wide variety of industries are racing to keep the core business intact, new innovation projects have taken a backseat. We've seen many teams re-order their priorities, put folks on paid leave, or wonder what they should be doing.
This state of suspended animation will not last forever. Eventually, innovation and tech scouting teams will resume their core missions. When that happens, for many there will be big questions about how different that readjusted mission will be – and what the "new normal" team will look like.
Thankfully, there are ways to start preparing for this new normal. Even before COVID, the following Tech Scouting tools and approaches were in use by the most sophisticated teams. Now, they are likely to take on a central importance for a much wider set of scouts and innovators.
Find ways to be helpful
Many organizations are still in scramble mode, and will be for quite some time – either due to spikes in demand or to cover for plummeting revenues. In many cases, the innovation mission has either taken a backseat or been put on hold.
But that's not to say you should be standing still. Rather, it is an opportunity to demonstrate that, in a pinch, you can provide value to the organization through other means. For some, "pitching in" may even be a gambit to justify your team's continued existence.
The processes, relationships, and skills base of open innovation and tech-scouting professionals can prove handy in a crisis. Disrupted supply chains benefit from the ability to form new connections and vet partners. In times where the normal operating principles no longer apply, outside-the-box thinking becomes a critical skill. The same goes for being able to build quick prototypes and moving projects quickly through incubation.
Even in firms where the R&D / Innovation mission is well sheltered from the pandemic's effects, we've heard about the benefits of mobilizing as part of the all-hands-on-deck response. Doing so builds goodwill with colleagues, and it may help advance the case for an expanded mission going forward. Plus, to be honest, it's just the right thing to do.
Leverage digital scouting tools
When finding innovation partners or scouting for new technologies, it's common to lean on the firm's existing relationships (and your personal rolodex). Combined with the typical run through tech conferences and showcase events, many scouting teams have all the leads they need.
During the pandemic, social distancing has curtailed or eliminated many of these options. That means scouting teams have to develop new and different avenues for sourcing and vetting innovation opportunities.
For most organizations today, this is an opportunity in disguise. Over the past few years, we've watched the most advanced scouting teams expand beyond the typical "coffees and conferences" activities. They've become increasingly more systematic and pervasive – conducting rigorous, ongoing research into the "long tail" of technology development and emerging opportunities worldwide. They then aggressively pursue interesting candidates that appear to be a fit for either their current or anticipated future portfolio of needs.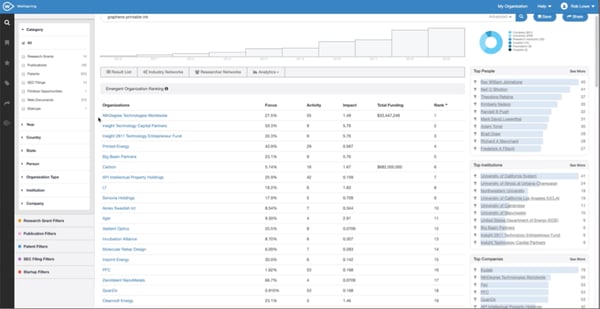 Searching online technology databases can supplement the classic scouting pipeline with a long tail of otherwise hidden / undiscoverable opportunities. For more, see the recent Wellspring webinar.
It's one thing to get your team accustomed to using Zoom and collaborating virtually. But you'll still need to find the "new normal" tactics for filling the pipeline. Digital tools such as Wellspring's Scout platform, with more than 300 million records from around the world – patents, grants, publications, startups, and more – can go a long way toward keeping the juice flowing. Chances are, even when the crisis recedes, you'll find it's a best practice that you probably should've been doing all along.
Develop new kinds of opportunities
Already it is becoming clear that the pandemic will leave a lasting impact on the economy. As much as it's important to stay focused on your pre-existing innovation needs and strategy, it's also clear that some aspects of the "new normal" will become permanent.
One obvious example is the added prominence of digital workplace technologies. Beyond just virtual collaboration and work-from-home adjustments, expect customer service, product delivery, and many other business processes to be accelerated into a digital future that will not go away once the virus is contained. Even if you haven't been asked to step up your focus on digital business enablers and/or virtualized product and service components, now is the time to get started.
Post-COVID, there is likely to be a new and different logic for how parts of the economy fit together. This will create expansion opportunities, especially for established market leaders and companies with strong cash positions. Innovations that may have previously struggled for adoption will suddenly race forward. Hollowed-out industries will need new champions to develop the next-gen value chain.
If your team has the bandwidth and leeway to devote time to strategic bets, it's worth looking at post-crisis business opportunities. Although the precise attributes of tomorrow's winning innovations may remain clouded by the pandemic's haze for awhile, it's better to prepare now than wait until the moment has passed.
Use the crisis to learn new tricks
The above ideas are not fundamentally new. Indeed, these suggestions have come from examples we've already seen in practice. For those tech scouts who are busy innovating their craft during this time of change, we salute you.
Now, as the pandemic sweeps through the economy, many of us will be forced to raise our game to stay relevant. Particularly with so much uncertainty, when we are tempted more than ever to cling to the familiarity of tried-and-true approaches, it's imperative to push forward into new ground, uncomfortable though it may be.
We'd love to hear from you as well. Do you have a "new normal" tip to share with other scouting teams? Have you tried any of the practices mentioned in this post? Please let us know, either in the comments below, or by dropping us a line.