Micro-mobility is one of the latest trends to emerge out of the transportation industry. It's a concept that has gained so much traction that even major automotive players, like Ford and Volkswagen, are getting involved. In 2018, micro-mobility took a big step toward going mainstream, with more than double the number of patents filings from previous years.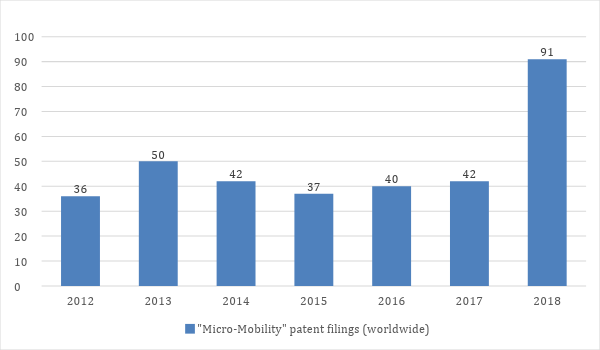 Figure 1. Micro-mobility has been an active area of research for several years, but patenting activities ticked up substantially in 2018 and appear to be accelerating further in 2019. Source: Wellspring Scout data
While certain trends never attain scale or sustainability, it looks like micro-mobility is here to stay. It is of global interest – the solutions are affordable, flexible, and environmentally beneficial for high traffic and urban areas – and new companies are popping up around the world.
The concept is particularly appealing to city planners and public transit agencies looking to solve the first mile/last mile issue. Even cities with well-established routes understand that providing more options, and thus greater accessibility to trains and busses, will actually increase ridership. Improvements created by micro-mobility have a higher return on investment than building out new bus and train lines.
Big city dwellers, one of the major consumer groups of the micro mobility industry, have already bought in and want more. Take Chicago for example. The city has some of the best public transit in the country, and residents and visitors typically rely on the 'L', CTA buses and/or the Metra to get around, rather than driving personal cars. However, there is often a lot left to be desired. Dated infrastructure leads to delays, the development of new housing along major routes causes overcrowding, and commuters are left with a headache. The recent influx of ride and bike shares have provided more options and flexibility for commuters.
Solving these problems is big enough, and tractable enough, that big companies have taken notice. And it's not just transportation companies: the majority of patents are focused on the networks and software to guide micro-mobility transportation devices. Companies such as LG, Alcatel-Lucent, Ericsson, Samsung, and Cisco Systems all have skin in the game.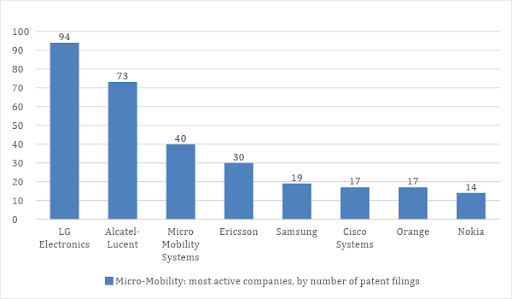 Figure 2. Top companies by number of micro-mobility patents. Other notable firms include: France Telecom (12), Nortel Networks (11), NTT DoCoMo (10), HP (10), Huawei (8), Apple (8), Microsoft (7). Source: Wellspring Scout data
And it's not only big corporations that are moving into the micro-mobility space – startups have begun to pop up as well. With big ideas like equipping personal bikes with smart locks to developing a portal to manage a whole fleet, here are a few companies to watch:
Blue Duck is an electric scooter company founded on meeting the demands and challenges of last-mile transportation (See more)
Flash develops vehicles for short distances. (See more)
Wheels Lab is a last-mile, shared electric mobility platform changing the current landscape in dockless mobility with the use of smartphones. (See more)
Freel provides corporate solutions for efficient transportation. (See more)
Wind Mobility offers convenient, safe, and fun last mile transportation services with bikes and scooters. (See more)
Urban Sharing is a software company that provides the technology for everything from smart locks, to data analytics, to user-friendly apps. (See more)
Rydies builds the leading B2B2C micro-mobility platform offering digitalized & connected services in urban areas. (See more)
It may be a number of years before micro-mobility solutions become mainstream in our cities, but the growing level of activity – both among corporations and startups – suggests that it is on the way. Furthermore, it has the potential to generate rippling implications in a variety of industries – from automotive to urban transportation to consumer electronics to digital networking and beyond.
If your organization's industry is connected to personal and urban mobility in any way, watch this space. Your team of scouts may want to develop scenarios and begin looking for promising technologies and significant market entries. Now is the time to prepare for the changes to come.
Sources:
1. Ford joins micro-mobility revolution by purchasing e-scooter start-up Spin
2. Volkswagen debuts a pair of weird electric scooters in Geneva
3. AllTransitTM Rankings