As countries around the world brace for - or are currently dealing with - the impact of the COVID-19 virus, companies, government and religious organizations, schools, and other social groups have been looking for ways to protect their communities. Many have begun to promote and encourage social distancing, while reducing the number and volume of their gatherings. Fortunately, the use of video conferencing and virtual collaboration tools have been on the rise, and these solutions provide a safe alternative to in-person interactions without disrupting daily life. As even more organizations and individuals become acquainted with this technology, virtual meetings could become the "new normal". Uncertainty now may push companies to explore permanently changing their policies, with some even transitioning into a fully remote workforce.
A major contributor to this trend is the general year-over-year increase in remote workers and companies with work from home policies. A 2019 study from the International Workplace Group discovered that 62% of companies have a flexible workplace policy, and that number appears likely to continue to grow. Employees with the ability to work remotely benefit from a better work-life balance, a decrease in travel time and costs, and an increase in productivity and performance. While these policies boost overall job satisfaction in employees, there are also major benefits for employers. These employee perks translate into better retention, more competitive hiring, and a reduction of overhead costs. Both employers and employees gain from flexible and remote work options.
All of this is made possible due to the advancements in information and communications technologies, like video conferencing. These tools enable teams to connect as if they're in the office and provide additional functionality like note-taking, scheduling, screen sharing, and recordings for later distribution and reference. Managers can host team and one-on-one meetings, IT can run diagnostics, and graphic designers can present and review projects. Video conferencing can also be used for external meetings like sales presentations and demos and client support and training. This technology is even used by HR teams to screen and interview candidates. Many corporate functions and roles can be managed remotely through virtual meetings and cloud-based collaboration tools.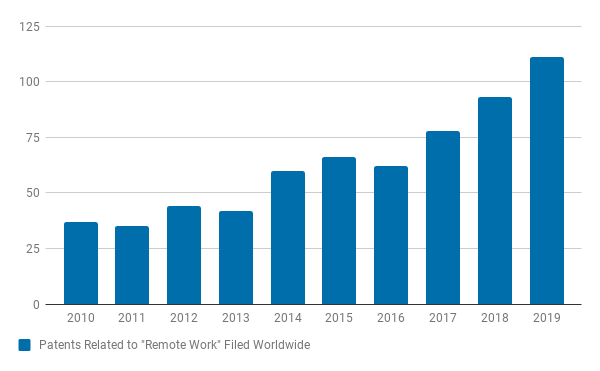 Over the past 10 years, there has been an increase in the number of patents filed related to the methods, systems, and hardware needed to support "remote work". Source: Wellspring for Tech Scouting Data.
Tools for virtual communication have also been adopted in a variety of industries, like education and healthcare. Video conferencing tools have supported the development of new educational initiatives like distance and virtual learning programs. With online learning, students are able to supplement their in-class experience, recover credits, or receive personalized instruction in an environment that is conducive to learning. In health care, virtual appointments connect patients with their doctors through video and mobile applications, and may even boost the capacity of primary care physicians. This technology also enables better care, allowing doctors to monitor patients more frequently and making it possible for patients to connect with specialists that they otherwise might not have access too. There are many possible applications for this technology, both realized and unrealized.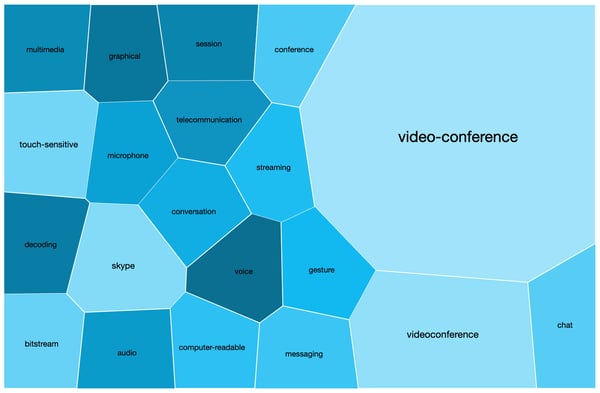 Related Keywords: In addition to "video conferencing", there is interest and activity in these connected technologies. Source: Wellspring for Tech Scouting Data.
While video conferencing and collaboration tools have been around for a while, the technology continues to become more sophisticated. The expansion of infrastructure and network bandwidth has strengthened the overall quality, reliability, and security of connections. Some firms have improved the accessibility of these tools, introducing in-browser, cloud-based, software, and mobile solutions. Others have developed external hardware, both for personal use and to build smart conference rooms and facilities. The range of options available also make these solutions easy to adopt.
Over the past two decades, organizations like Microsoft, Apple, Cisco, Intel, and IBM have lead the pack with activity in this area. Yet many new players are still emerging. Here are some of the top startups in the video conferencing and virtual collaboration space:
Owl Labs creates smart IoT conferencing cameras with 360-degree audio and video capabilities. (See More)
Lifesize combines best-in-class, cloud-based video conferencing services with integrated equipment. (See More)
Coviu provides a highly secure video consultation software, configured to include resources required by healthcare providers, such as consent forms, questionnaires, medical imaging, and more. (See More)
Taskade is a unified workspace for distributed teams with tools for live collaboration and communication all on one page. (See More)
Kaptivo (formerly known as Light Blue Optics) is the leading provider of whiteboard collaboration solutions. (See More)
CaptureProof is a HIPAA compliant solution for patients and providers to communicate through sharing of photos and videos with the entire care team. (See More)
Discuss.io makes gathering insights from users easy with a platform for interviewing customers one-on-one and in groups. (See More)
Doky provides powerful, pre-configured workspaces in the cloud that aid individual and team productivity, communication and collaboration. (See More)
DigitalEd offers online education solutions designed especially for STEM courses. (See More)
VSee is a telehealth platform combining HIPAA video chat, health data visualization, and medical workflow services. (See More)
StarLeaf enables seamless collaboration through intelligently engineered, reliable meeting room systems, superior video conferencing, and secure messaging. (See More)
PresenceLearning delivers live, online speech and occupational therapy sessions for K-12 students. (See More)
Huddly combines hardware, software and AI to create intelligent vision products for everyone who uses video to collaborate. (See More)
With the uncertainty that comes with a global pandemic, it is hard to plan for the next few weeks and months in advance. Using companies and organizations that have embraced flexible work policies as a model should help others adopt video conferencing and virtual meeting technologies as practical alternatives to in-office collaboration.
For more insights like this on other trending markets, check out the entire Data Spotlight series or try our search tool, Wellspring for Tech Scouting, today.