Of the many procedural and technological changes in manufacturing over the past few decades, 3D printing is one of the more futuristic concepts to emerge. When the world stabilizes from the COVID-19 pandemic and its economic effects, 3D printing is one emerging technology with a trajectory that may look quite a bit different than before.
First, it's important to reflect on where adoption of 3D printing stands today. While the novel technology has gained some traction, it has been overshadowed by other next-gen manufacturing technologies. The industry has largely embraced and incorporated automation, IoT, and advanced analytics, while 3D printing has seen a slower adoption. Despite applications in many industries, the full potential of this technology is still mostly unrealized.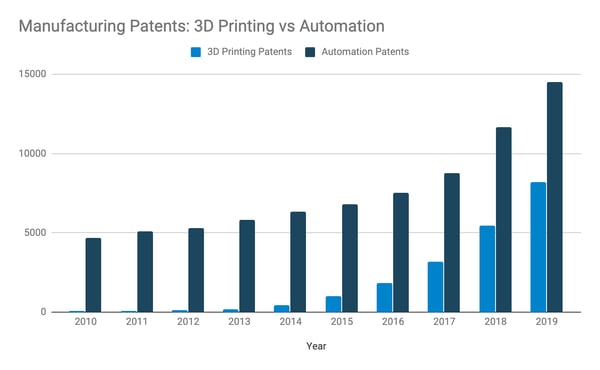 Figure 1. The number of 3D Printing and Manufacturing patents compared to the number of Automation and Manufacturing patents filed between 2010 and 2019. Source: Wellspring for Tech Scouting Data.
While two-thirds of manufacturers report utilizing 3D printers in some capacity, it is still largely viewed as an emerging technology. It is largely used for prototyping and rapid design rather than a full replacement of traditional methods. In traditional manufacturing, there are several techniques employed to produce a finished product; most of these processes rely on subtractive measures, cutting away layers of material to shape an object. By contrast, 3D printing is an additive process that builds three-dimensional objects layer by layer. Computer-aided Design (CAD) software is used to create a digital model; that file is then "sliced" and instructions are sent to the printer in a language it will understand. To many, the technology is not considered mature enough to compete with traditional manufacturing processes to produce end-use parts and/or products.
This belief is challenged with every new use case that emerges. As real-life scenarios and practical applications for 3D printing make headlines, the case for additive manufacturing gets stronger and stronger. Consider the impact of Invisalign on the dental industry. The company's customized, clear-aligner orthodontics provide an attractive alternative to braces that has become increasingly popular with consumers over the past two decades. Since its inception, the company has trained over 80,000 dentists and orthodontists on their system that uses digital scans of the oral cavity to determine the design of the aligners. The custom orthodontics are 3D printed and sent to the doctor's office where treatment can begin. Rather than making manual adjustments themselves, doctors simply need to monitor the progress over time.
Even astronauts at the International Space Station have experimented with the technology. Rather than relying on cargo resupply missions to send the parts and tools needed for maintenance, the astronauts have conducted several tests and even manufactured a few functional items for use aboard the craft. 3D printing will not replace traditional methods altogether, but it certainly can be incorporated into broader manufacturing operations beyond prototyping.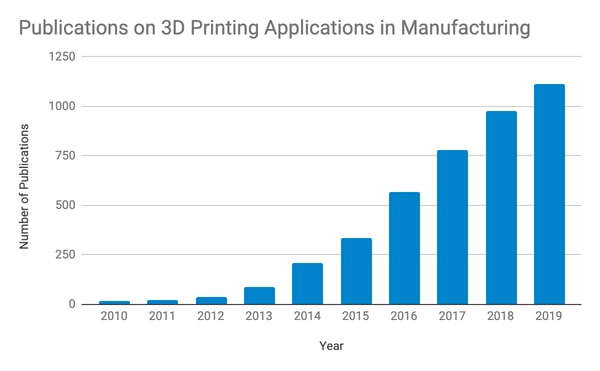 Figure 2. The number of publications exploring the applications of additive manufacturing continues to grow year over year. Source: Wellspring for Tech Scouting Data.
Amid the current COVID crisis, 3D printing is making the news again. With hospitals facing shortages of PPE and medical equipment, corporations and communities have been called on to provide aid where they can. Retail brands like Gap and Canada Goose have shifted production from consumer goods to producing scrubs and gowns for front line healthcare workers and patients. Automakers like Ford and GM are responding by repurposing parts to build ventilators. Now, companies with access to 3D printers are reconsidering how the technology they typically employ for early-stage product design can be used to manufacture goods for final use. Employees at Bridgestone's technical center are now printing face shields to donate to local hospitals. At HP's 3D R&D Centers, hands-free door openers and mask adjusters have been fabricated while designs for ventilator parts and face masks are in the testing and validation phase. 3D printer companies like Carbon and Origin are using their own tech to manufacture nasal test swabs.
There is no denying that the steep and sudden increase in demand for PPE and medical equipment has contributed to these shortages. However, disruptions to the global supply chain have had a significant impact on the inventory shortfalls as well. Given the flexibility of additive manufacturing, the technology has the potential to offset shortages related to production and sourcing delays. 3D printers are not specific to one product or design, bringing the promise of added flexibility and resiliency for supply chains. 3D printing can make manufacturing more decentralized, as printers are portable and objects can be made on-demand. Compared to traditional manufacturing methods, there is decreased complexity in the parts, components, and processes - as well as an increased ability for customization. The characteristics of this technology are well suited to combat the challenges from global shocks like pandemics, natural disasters, and political upheaval.
In a post-COVID world, could 3D printing become more widely available, accessible, and accepted? Here are some of the most promising startups focused on bringing 3D printing manufacturing capabilities to many industries:
AREVO develops technology to enable direct digital additive manufacturing of ultra-strong, lightweight composite parts for end-use applications in high volume. (See More)
Relativity vertically integrates robotics, software, and 3D printing technologies to digitize aerospace manufacturing. (See More)
HEXR is setting a new standard in helmet safety with 3D printed protective headgear that is customized using a 30,000 point digital model. (See More)
Markforged builds 3D metal and carbon fiber printers for tooling, fixtures, functional prototyping, and high-value end-use production. (See More)
ICON is reimagining the approach to homebuilding and construction with its proprietary 3D printing robotics, software, and advanced materials technology. (See More)
Tailored Fits uses 3D scanning and printing technologies to offer anatomically fitting solutions for individual footwear, sports gear, and protection gear. (See More)
Natural Machines produces Foodini, a 3D food printing kitchen appliance made exclusively to work with food, constructed of food-grade, food-safe materials. (See More)
Craft Health leverages 3D printing technologies to simplify the process of pill taking for patients & consumers. (See More)
Spectroplast produces end-use Silicone products using additive manufacturing technology that are functional and perform. (See More)
DyeMansion offers high-volume finishing systems to transform raw, 3D-printed parts into end use consumer and industrial products. (See More)
Nano Dimension is transforming how electronics are designed and manufactured, incorporating 3D inkjet, 3D software, and nanomaterial technology. (See More)
Inkbit provides an additive manufacturing platform that combines 3D printing with machine vision. (See More)
Nanofabrica brings the power of 3D printing to micro and nano manufacturing, unlocking potential in markets like robotics and semiconductors. (See More)
For more insights like this on other trending markets, check out the entire Data Spotlight series or try our search tool, Wellspring for Tech Scouting, today.
Photo by Ricardo Gomez Angel on Unsplash