As a long-time sponsor of the AUTM Annual Meeting, Wellspring is looking forward to meeting attendees in Phoenix this year. Whether this is your first event or you're a regular at AUTM, it always helps to prepare for the four days of professional development and networking. With so many engagement opportunities, here are some insights and tips for sorting through a packed program to make the most of your time at AUTM 2018.
Why Attend?
Every year, the Association of University Technology Managers (AUTM) hosts a conference that brings technology transfer offices and corporations together from around the world - the largest event of its kind. This year, 60 vendors will meet face-to-face with nearly 2,000 representatives from hundreds of large, small, public and private universities, industry representatives, government agencies and hospitals, and research institutions.
Among those attending AUTM are global leaders in research and innovation, like GlaxoSmithKline, a company known for developing vaccines for diseases ranging from smallpox, to hepatitis, to influenza. Intel, the inventor of the first microprocessor, will be in attendance as well. Several leading research universities will also be attending, such as Johns Hopkins University, an institution that has 797 active technologies with U.S. issued patents as of 2017. Johns Hopkins will have at least ten representatives at AUTM this year, as will Tech Launch Arizona and Kyoto University, among others.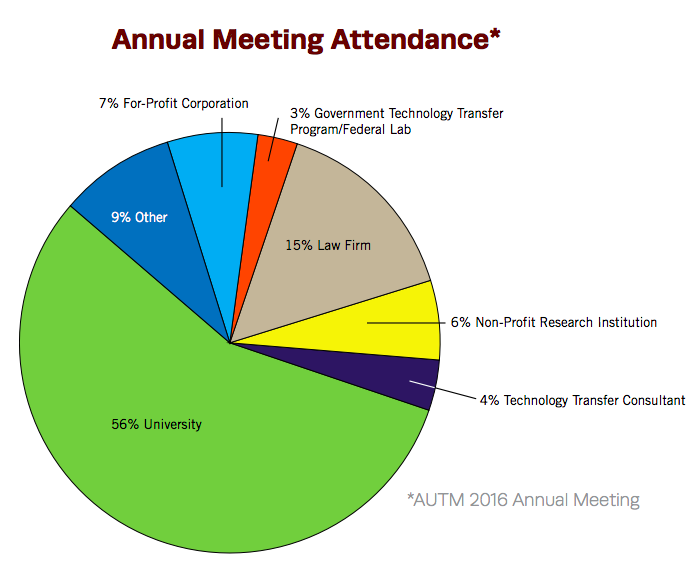 What to Expect
The week's complete schedule and logistics can be found in the AUTM program guide. Each day will feature several professional development courses and informational sessions led by experts in the technology transfer industry. The program guide includes detailed descriptions of all of the courses and information about each speaking engagement. A general overview of each day's schedule and the event locations can also be found here.
In addition to attending meetings and courses, attendees are encouraged to visit the exhibit hall throughout the day and take advantage of the event's primary networking opportunity by connecting with vendors. Here is the full list of exhibitors as well as a map of the floor plan below. Be sure to stop by Booth 303!
3 Tips for Making the Most of AUTM 2018
Now that you know who will be at AUTM, where everyone is located, and the timing of all of the events, it's time to be strategic about planning your week. Here are three tips for effective networking at AUTM this year.
1. Don't attend every meeting
There are 33 sessions on the AUTM agenda that add up to 16.5 hours of lecture in a span of four days. Instead of attempting to absorb all of that information, be selective of the seminars you attend and aim for just a few per day. In doing so, you'll better retain specific pieces of information that are of interest to you and, more importantly, you will have more time to network. If this is your first AUTM conference, the program guide includes a list of recommended meetings for first-time attendees on Page 13.
2. Get to know the vendors
All of the AUTM exhibitors are excited to meet with attendees to talk about company updates and demo new product features. This year, members of Wellspring's marketing and sales leadership team are eager to share details about our software for technology transfer, corporate venturing, and IP management. As Wellspring expands its global presence, the team wants to connect with current and future clients to see how the software can continue to drive open innovation efforts in R&D offices around the world. You can find us front and center at Booth 303.
3. Spend time networking
The ultimate goal for mapping out your week at AUTM ahead of time is to create a schedule that sets up as many productive conversations with vendors as possible. While spontaneously stopping by booths throughout the day could potentially lead to fruitful meetings, Wellspring is happy to schedule these ahead of time with you as well. Whether planning for a brief 15-minute chat to get an overview of Wellspring's products or blocking off a half hour for a demo, knowing where, when, and who you'll be talking to throughout the event will add structure and organization to a full, busy agenda. Contact us to put that meeting on your calendar today.
Sources
https://www.intel.com/content/www/us/en/history/museum-story-of-intel-4004.html