Here's some good news that you may have missed at the end of 2021 – With an assist from Synchron's Stentrode Brain-Computer implant, a patient suffering from amyotrophic lateral sclerosis (ALS) successfully posted this uplifting tweet: "hello, world! Short tweet. Monumental progress." A seemingly simple post, it is believed to be the first direct-thought to text message shared on social media, marking a monumental step forward for brain-computer interfaces (BCI) and human augmentation tech. This heartwarming anecdote illustrates the potential and capabilities of this tech – and while seemingly novel, its usage is more common and widespread than one might think.
The idealistic future the Jetsons painted with flying cars and robot maids may not be fully realized, but current technological capabilities allow for evolving advancements and discoveries in human augmentation. "Human 2.0" technologies are versatile and cover a wide range of accessibility - from readily available and less invasive wearables to detachable and configurable prosthetics to more permanent, surgical implants - making the applications seem innumerable.
Human augmentation is the ability to alter the human body naturally, artificially, or technologically in order to enhance physical and mental capabilities. This integration encompasses technology from everyday wearable pieces like our smartphones to noninvasive and invasive prosthetic devices. This tech has applications across large regions of technology, from entertainment and construction to biotech and manufacturing. Many of us are familiar with and use less sophisticated forms of this technology, like smartphones and smartwatches, every day. And while not relevant to the average person, most are aware of other current and available applications like prosthetics and exoskeleton suits. There are plenty of organizations researching and exploring the incremental and adjacent opportunities in Human Augmentation.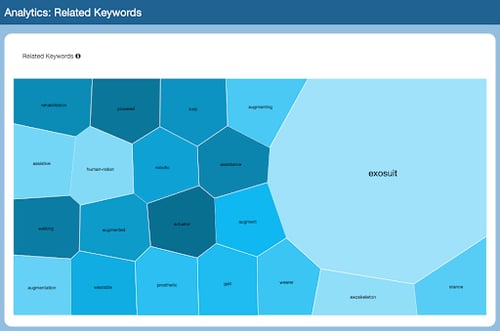 Figure 2: Related Keywords – Significant terms related to "Human Augmentation" include words associated with non-invasive technology like wearable, assistive, and powered. Source: Wellspring Scout.
These existing use cases have supported the rapid expansion of human augmentation: the industry was valued at $90B in 2020. It is further bolstered by its potential outside large tech companies and beyond the obvious biomedical and high-tech plays. Human augmentation technology is expected to reach and benefit 54% of small to medium-sized companies within the next two years; organizations in seemingly incompatible industries like law and business operations are two of the top contenders for an industry-wide shift. Improvements and expansions will support the growth of the sector. But it's novel and almost unimaginable applications, like brain-computer interfaces and implants, that project the industry to more than quadruple by 2027 for an estimated value of $400B.
Augmentation can be categorized into three major groups: (i) supplementation, (ii) replication, (iii) exceeding our current advancements.
Supplementation
Supplementation is arguably the most familiar form of augmentation to the larger population. Wearable devices have already become an industry norm: smartwatches, fitness trackers, smart rings – the list continues to grow.
Of the up-and-coming supplementation devices discussed today, there is renewed interest in smart glasses. While options have been available to consumers for years, underwhelming early iterations and a reputation for being historically expensive prevented "mainstream" adoption of this technology. Now, as the next generation of smart glasses hit the market, upgraded features like embedded headphones and built-in virtual assistants have made the technology more palatable to the masses; the most advanced versions even include projection and augmented reality capabilities.
Industry leaders like Amazon Echo, Ray-Ban, JLab, and Bose have all released their own on-the-market glasses that retain base functions but vary in their higher-tech features. Bose prides their glasses on the headphone aspect, while Amazon Echo brings the convenience of Alexa right to your face. Facebook, however, is leading the industry at the moment: their glasses can currently make and answer phone calls, listen to music, take photos and videos, and even share content directly to social media platforms. They project their glasses will advance to promote eye-to-eye communication with remote people – changing our remote communication forever – as well as possibly projecting holograms.
Supplementation may also modify tech used by millions on a daily basis. Given the pandemic's shift to a work from home lifestyle, many people have begun benefiting from supplementation beyond their everyday wearable tech. Video-streaming platforms like Zoom, Microsoft Teams, and others have made it possible for millions of people globally to work remotely, and continue making major advancements in the virtual world – yes, holograms.
Start-ups standing out in supplementation:
Integem builds on AI and cloud technology to deliver holographic augmented reality experiences
BRELYON develops a display used to replace traditional monitors and virtual reality headgears
Replication
A bit of a misnomer, the purpose of replication technology is not to copy or duplicate. Rather, replication refers mainly to restoring or replacing a missing or lost element of the human body, often with prosthetics. Naked Prosthetics is a Washington state-based company focusing on artificial finger and hand devices. Their products are a step above the prosthetics we have seen for the past several decades; their advanced technological level allows clients to use their devices as if they were their actual hands, feeling and controlling the product as if their neurons were inside of it. Naked Prosthetics promotes full use of fingers and hands and decreases the number of people forced to shift careers or stop working entirely due to injury.
However, not all forms of replicative augmentation are prosthetics-based. While relatively new, regeneration of cells and tissues has also become increasingly popular and important in the biomedical field.
Start-ups standing out in replication:
Cellvie researches mitochondrial transplantation for therapeutical use
Avery Therapeutics develops tissue engineered therapeutics to treat diseases and injuries to human muscle
Exceeding our Expectations
Companies like Neuralink are leading down the path of computer-brain interfaces. The premise of Neuralink, co-founded by Elon Musk in 2017, is to create implantable brain devices that will help humans expand their functionality. While highly controversial, the market does exist and is currently expanding. The Neuralink device will feature many small threads which are motion-sensitive and connect to neurons, as well as having to be installed by a neurosurgical machine which is also currently in the making. Almost like mind control, the end goal is to be able to control a computer or smart device with your mind.
The notion of a surgical procedure in order to turn on a smartphone can be a bit intimidating to the average consumer, but Neuralink intends to help those with paralysis or who have lost function regain not only their sovereignty but the ability to speak, create, and write as well. As mentioned above, major advancements in CBIs in clinical trials have already been made. Neural engineering for the average person is not far behind, but for the moment this medical device and procedure is intended to treat various medical conditions.
Startups standing out in this area:
Precision Neuroscience is developing an integrated system of electronics, software, and minimally invasive neural implants
Human Bionics designs industrial-medical devices, prototypes, and apps connected with hardware through IoT
In addition to the three product categories, many industries are heavily involved in research and development of human augmentation - and others directly impacted by the emerging technologies: biomedical engineering, construction, legal and ethical work, and business operations, just to name a few.
Additional Industries
Biomedical engineering –
Bioprinting is a rapidly evolving area of study in biomedical engineering. Utilizing 3D printing software, this industry is able to combine cells and other biogrow materials in an attempt to recreate tissue with natural human characteristics. Two standouts right now are Tissue Labs and Calico Labs.
Construction –
Exoskeletons are wearable devices that have become increasingly popular in the construction industry. As a result of the heavy weight and large amounts of pressure required to complete many tasks, the rate of injury in construction is high. The invention of an exoskeleton eliminates the heavy pressure and allows workers to complete tasks with a low risk of injury.
There are two major types of exoskeletons being used today: mechanical and electrical. The former allows workers to reduce the amount of pressure on joints, while the latter provides greater strength to accomplish tasks. Two of the leading exoskeleton producers are Ekso Bionics and Verve Motion.
For more insights like this on other trending markets, check out the entire Data Spotlight series.