According to NBC, this year's Super Bowl viewership rose 16% from 2021, with over 112.3 million viewers tuning in to watch the championship game. While football is the main event, the halftime show and commercials draw in their own audience. This year, alongside funny ads and new product announcements, CueHealth used this time to show off their home COVID-19 test - a potential game-changer for at-home diagnostics.
The commercial painted a picture of a real-life scenario many have experienced since the onset of the pandemic: a loved one has been exposed to COVID and needs to be tested. It begins with a mother informing her son that his friend has tested positive and instructing him to take a "Cue" test. The young boy begins the test, using the single-use Cue swab and Cue cartridge to collect the sample. As the reusable Cue reader processes the test, the other smart devices in the home begin discussing Cue's purpose: to keep families safe by detecting the presence of COVID in the immune system safely, conveniently, and quickly. The results are delivered via the app, and the commercial ends with Cue's statement: "Just wait 'til you see what else I can do."

Patent: Systems and Methods for Facilitating Fluid Flow During Enhanced Detection and Quantification of Analytes. (Source: Wellspring Scout)
Since their initial debut in late 2020, OTC at-home antigen tests have played an essential role in monitoring infections and controlling the spread of this contagious disease - but they are far from a perfect solution. Positive results are considered highly accurate and reliable, but false negatives are not uncommon, especially in asymptomatic cases.
While it might seem like "just another COVID test," Cue does offer a unique solution in the increasingly crowded home diagnostic market. Unlike many incumbents in the space, Cue promises lab-quality results in 20 minutes with a molecular test that detects the virus's genetic material through nucleic acid amplification. Like other tests, a swab is used to collect a sample from the nasal area. Unlike its counterparts, Cue is sensitive enough to detect all variants and infections in asymptomatic cases. In a clinical evaluation at the Mayo Clinic, Cue's at-home test matched lab results of 292 systematic and asymptomatic outpatients with 97.8% accuracy.
Like many of its contemporaries, Cue's test was approved under "FDA Emergency Use Authorization," but its utility could extend long beyond the pandemic itself. The underlying technology found within the device, the Cue Reader, has the potential to revolutionize at-home lab tests. This tech could be used globally for other types of at-home testing, delivering results almost instantaneously.
While Cue has caught the attention of many consumers and competitors, several other key players are also making moves in the at-home diagnostic market:
Sherlock BioScience
Utilizing CRISPR and synthetic biology, Sherlock Biosciences creates highly-accurate diagnostic tools for DNA and RNA detection. Their products are designed to be used in any setting, enabling the decentralization of testing. In 2020, Sherlock Bio received a grant from the global health division of the Bill and Melinda Gates Foundation to pursue the development of molecular diagnostic Covid-testing devices that can be deployed in low- and middle-income countries. Since then, the company has raised $80 million to continue product development and expand global partnerships.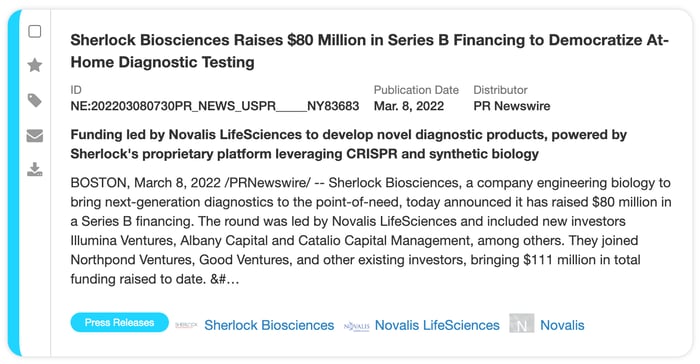 Press Release: Sherlock Biosciences Raises $80 Million in Series B Financing to Democratize At-Home Diagnostic Testing. (Source: Wellspring Scout)
See it in Scout: Sherlock Biosciences
Visby Medical
Visby is a molecular diagnostics company that develops rapid, portable PCR tests for infectious diseases. With results in 30 minutes or less, their handheld device is redefining the diagnostics process by enabling health care providers to test and treat in one visit. Founded in 2012, the company first developed a device for point-of-care STI testing; by March 2020, its team pivoted to focus on the global pandemic.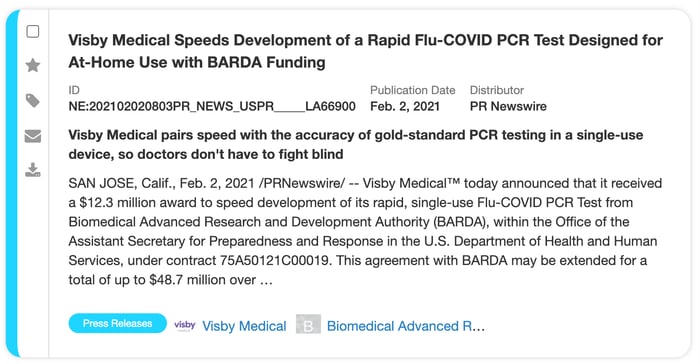 Press Release: Visby Medical Speeds Development of a Rapid Flu-COVID PCR Test Designed for At-Home Use with BARDA Funding. (Source: Wellspring Scout)
Last year, Visby announced a partnership with the Biomedical Advanced Research and Development Authority (BARDA), receiving funding to create an at-home Rapid Flu-COVID PCR test; the single-use test will be able to distinguish between and diagnose COVID, Influenza A, and Influenza B infections. Since then, they have raised another $100 million to accelerate the development and production of tests.
See it in Scout: Visby Medical
Lucira Health
Lurica Health had been in the diagnostics sector for nearly a decade before shifting its efforts to focus on COVID. Their Check It kit includes a battery-powered, hand-held device that uses an RT-LAMP amplification method to deliver centralized-laboratory-accurate results in 30 minutes or less. Lurica is the only single-use, over-the-counter molecular test to receive approval from the FDA; it has since been approved for sale outside the US in Canada, Singapore, and Taiwan.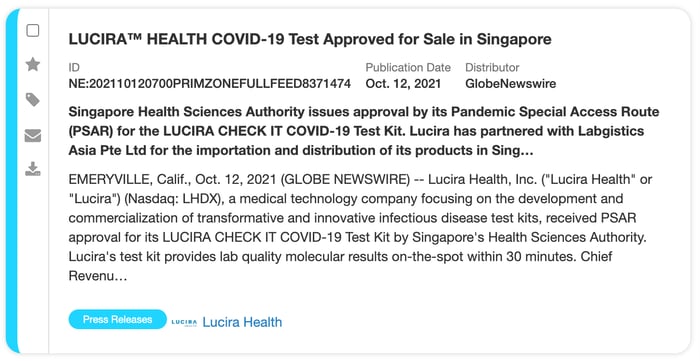 Press Release: LUCIRA HEALTH COVID-19 Test Approved for Sale in Singapore. (Source: Wellspring Scout)
See it in Scout: Lucria Health
Anavasi Diagnostics
Mobilized by the COVID-19 pandemic, Anavasi was founded in August 2020 at the University of Washington by a professor, a software engineer, and a doctoral candidate. Using their diverse experiences and skillsets, the co-founders wanted to help fight the pandemic by developing more efficient diagnostic capabilities. Despite their age, the young startup was able to design its point-of-care diagnostic device and test kits within its first year. The device uses proprietary loop-mediated isothermal amplification (LAMP) methods to detect viral RNA; the test can be altered to screen for other viruses and bacteria, including HIV and the flu, using the same technique.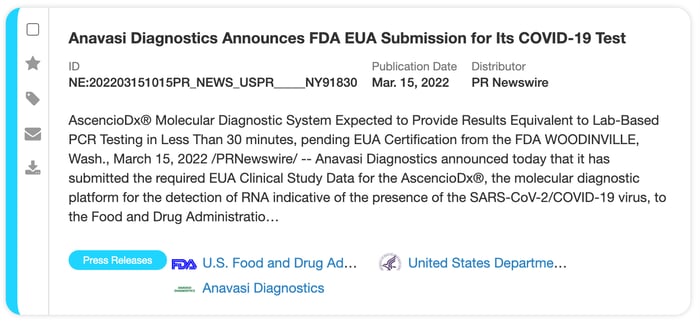 Press Release: Anavasi Diagnostics Announces FDA EUA Submission for Its COVID-19 Test. (Source: Wellspring Scout)
Anavasi recently filed a submission to the FDA for Emergency Use Authorization. (EUA) Submission, requesting approval for use in low resource environments by licensed medical professionals; they will seek expanded clearance for home diagnostics, pending additional clinical trials.
See it in Scout: Anavasi Diagnostics
---
For more insights like this on other trending markets, check out the entire Data Spotlight series.
Image by Alexandra_Koch from Pixabay