The personal care industry has seen many trends come and go over the years. With promises to revitalize and rejuvenate, clarify and cleanse, or depuff and detoxify, marketers have effectively built associations between certain ingredients, like charcoal or cucumber, and these claims/promises. However, consumers that test out products based on trendy ingredients, hoping for the implied outcome, are often disappointed with the results.
Even still, most consumers will not consult a certified dermatologist. It is estimated that a mere 10% of those suffering with acne or rosacea will seek professional treatment; only one in three Americans affected by a skin condition or disease will access a dermatologist. Because of the relatively low financial investment, consumers have used trial and error to figure out what products work best. They continue testing creams, cleansers, serums, and even hair products - instead of addressing the root of their complex needs - which are influenced by genetics, lifestyle, and environment. The cycle continues.
But artificial intelligence, machine learning, algorithms, and augmented reality could soon change all that.
In the quest for products that actually deliver on their promises, consumers are warming up to the idea of sharing their personal information in exchange for carefully curated solutions. Some opt to take quizzes or fill out questionnaires asking about problems and preferences. Others will take a photo or two, sharing the snapshot so their skin can be analyzed. In the end, consumers are served up "just for me", customized formulations created for the individual. In this sense, personal care is getting more personal.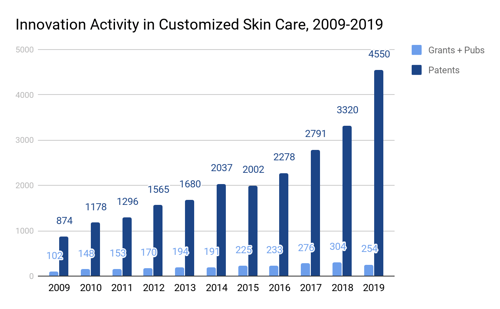 Consumers' calls for customization are heard. In the past few years, patents for personalized skin care have grown at an increasing rate, as the innovation landscape moves from basic research toward commercial viability.
Source: Wellspring Scout data

Behind the scenes, companies are able to build their own diagnostic methods, models, and databases with this information. Relying on self-reported data, firms are using artificial intelligence to process information about skin concerns and conditions like acne, wrinkles, and dryness. They then compare the analytics results to demographic information like gender, age, and ethnicity, which is cross checked against behavioral information like current product usage and daily routines. Machine learning stitches together this information, identifying patterns and establishing correlations.
One example is Proven, a skin care company that develops customized products using artificial intelligence and machine learning. They have built the world's largest skincare database, aptly named the Skin Genome Project, winning MIT's 2018 Artificial Intelligence Award. Analyzing 8 million reviews of 100,000 products and 4,000 scientific publications against environmental factors (like water hardness, humidity, and UV index), Proven is able to determine the effectiveness of over 20,000 ingredients and formulate the best products for each customer, unique to the individual.
Others have employed AI along with Augmented Reality in a diagnostic capacity to assess the current condition of the skin and recommend a personalized treatment plan. AI systems have been trained to process photographs with the goal of understanding facial characteristics like wrinkles, acne, and sun damage - some with the potential to even learn how to recognize skin conditions like psoriasis and eczema. Equipped with an analysis of the skin, the application can suggest products for purchase.
Even well established companies understand that incorporating this new technology is imperative to retaining their share of the market. In early 2018, L'Oréal acquired ModiFace as part of their Digital Services Factory. ModiFace's technology - 3D virtual make-up, color, and skin diagnosis services - will be used across L'Oréal's 34 brands. Procter & Gamble's Olay Brand opted to develop Skin Advisor in house. With just one "selfie", an AI powered algorithm analyzes skin and suggests a personalized regimen.
The potential of this technology is uncapped. Unlike the trends of the past, this evolution in skin care is not driven by a single ingredient or additive. It is a revamped outlook of the industry as a whole, centered around customization for the individual consumer. This personalization is less of a trend and more of an approach. Its staying power is rooted in the understanding that, like health care and medicine, personal care is not one-size-fits-all. Doctors tailor their treatment of individual patients by adjusting medication and dosage or recommending a specific diet and exercise regiment, based on a multitude of factors like the individual's health history or prior reactions to other medications. Why should skin care be any different?
Here are the companies that aim to help consumers put their best face forward:
Glory Facial is a beauty and wellness startup that provides personalized skincare services using AI technology and medical expertise. (See More)
Anokai delivers high-end health and beauty applications that harness the power of artificial intelligence, augmented reality, rich user interfaces, and state-of-the-art design to determine the most effective cosmetic treatments and beauty solutions for their users. (See More)
mySkin is a social beauty platform powered by the patent-pending 'Just Like Me' algorithm to help people understand their skin and find products that work. (See More)
Haut.AI develops AI algorithms with computer vision and machine learning for recognition of skin pathologies. (See More)
Beauty By Design is a vertically integrated, personalized skincare platform that solves the well-known problem of selecting and buying the right skincare products for your skin type. (See More)
CRIXlabs (DBA Quantified Skin) is an artificial-intelligence-based platform with learning, adaptive and recommendation capabilities with applications in skincare. (See More)
Pure & Mine creates personalized shampoo, conditioner, and body wash based on each user's hair and skin type, delivering customized products directly to the consumer. (See More)
Polyfins Technology Inc applies technologies like artificial intelligence and chatbots to solve dermatology problems. (See More)
DermaDetect is an AI-based application that uses rule base inference & image analysis using machine learning for diagnostics and treatment. (See More)
EpigenCare combines epigenetic testing with ingredient-based algorithms to deliver personalized skin profiles and recommend products currently on the market. (See More)
For more insights like this on other trending markets, check out the entire Data Spotlight series or try Scout, Wellspring's search tool, today.