Global food production must increase by 70 percent in order to feed 9.2 billion people by 2050 (1). That places a lot of pressure on farmers to reduce waste, increase crop yields, and search for scalable and novel technologies. Innovative technologies and techniques will help farmers make more precise decisions, ultimately providing support for global population growth.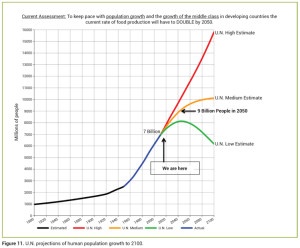 While attending the World Agri-Tech summit alongside tech scouts and corporate venture capitalists in San Francisco, I learned how essential technology will be in transforming agriculture in the near future. One session I attended stressed that venture capitalists should invest in a sustainable strategy for growth and collaborate to affect investments across the supply chain. It was eye-opening to hear how ag-tech will increase efficiency and lead to higher profits for farmers in the future, just as previous technologies created efficiencies that shaped the farm sector earlier in history.
The Past and Future of Innovation in Agriculture
Technological developments in agriculture continue to rapidly advance. With widespread mechanization after World War II, the number of farms across the country declined while the average size of individual farms increased, mainly because of tractors replacing animal power (2).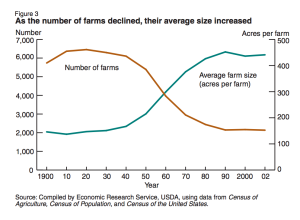 Fast-forward to 2016; technologies poised to disrupt future agriculture and food production involve precision analytics. I imagine that in the same way that tractors and other technologies created efficiencies on farms in the past, precision analytics will dramatically maximize agricultural resources. In a few years, it may be a common practice for farmers to take a photo of their crop from a mobile device and upload it to a database, where an expert will assess that crop and offer assistance to the farmer based on the color, maturation, and other properties of the crop (1). In order for these technologies to be adopted, though, the farmer needs to make significant profits through systems that solve their greatest challenges.
Precision Analytics Benefits Farmers
Precision analytics will transform the agriculture sector by benefiting the farmer, making investment in this field a sustainable strategy for growth. Sanjeev Krishnan, managing director of S2G Ventures, noted in the session that in the past, chemistry, automation, and genetics transformed agriculture; in the future, biology and data will offer more profit to the farmer. Krishnan suggested that in order for a technology to gain widespread adoption, it must offer profit to the grower. If today's investment model doesn't allow for scaling technologies, even in small countries with big ideas, we may need to innovate the investment and scouting models.
Technologies involving precision analytics will be significant in fostering a more stable market. Zachary Bogue, co-managing partner at Data Collective, mentioned that ag-tech—although a massive market—is unstable; he emphasized how precision analytics will be an important factor in meeting the global food demand by maximizing financial outcomes. Ultimately, precision agriculture will help farmers minimize costs by providing more insight and efficiencies.
Actionable Analytics Powering a Sustainable and Profitable Future
I spoke with Barrett Mooney, Ph.D., CEO of HydroBio, to learn more about precision agriculture and the future of the industry. HydroBio is a SaaS company and an emerging leader in precision agriculture showcased at the World Agri-Tech Summit. As part of Monsanto Growth Ventures' first investment portfolio, HydroBio is helping Monsanto reduce its water footprint for seed production. Mooney mentioned that it was extremely valuable for his company to partner with Monsanto, leveraging its expertise in the market and the ability of both companies to learn from and grow with one another.
HydroBio integrates data to give farmers insight into problems before they affect the harvest. The technology uses satellite-image driven analytics to conserve water and maximize farm profitability. The US Patent and Trademark Office awarded HydroBio a patent earlier this month, on March 10, for cutting-edge irrigation analytics technology (3).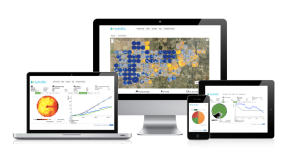 According to Mooney, "Precision agriculture is trying to take the risk out of the farmer's enterprise." Growers can watch their crop water use and the health of the plant, allowing them to see their true irrigation demand and pivot their strategy, if needed. Every growing season has its own challenges, and farmers learn from those challenges by experiencing more seasons. Technology allows farmers to experience more seasons by translating years into patterns, providing actionable information at their fingertips to have an impact on their bottom lines.
Companies all over the world are developing technology to help farms be more efficient, enhance processes, and enable innovative water-treatment solutions to minimize costs and increase production. Technology scouts and corporate venture capitalists must stay ahead of the curve and keep an eye out for these transformative technologies.
Staying Ahead of the Curve
It is becoming more challenging to keep up with technologies popping up—not only in ag-tech, but in adjacent industries. It is crucial for technology scouts and corporate venture capitalists to develop a robust strategy for finding technologies and managing deals. These transformative technologies in precision analytics will disrupt the state of agriculture and shape the global economy of tomorrow. To feed the population in 2050, farmers will need to adopt new technologies and techniques to maximize resources.
How are you staying ahead of the curve and searching for the most important technologies of the future in agriculture? What technologies do you think will transform the industry?
Learn how search once scouting has helped technology scouting leaders around the world.
Sources:
(1) "Precision Agriculture Using Predictive Weather Analytics to Feed Future Generations." IBM Research: Precision Agriculture. Web. 23 Mar. 2016.
(2) Carolyn Dimitri, Anne Effland, and Neilson Conklin. The 20th Century Transformation of U.S. Agriculture and Farm Policy. Rep. United States Department of Agriculture, June 2005. Web. Mar. 2016.
(3) "HydroBio Awarded Patent for Cutting-edge Irrigation Analytics Technology." HydroBio. Web. 29 Mar. 2016.
(4) Agriculture, plant physiology, and human population growth: past, present, and future. Theor. Exp. Plant Physiol. [online]. 2013, vol.25, n.3, pp.167-181. ISSN 2197-0025. http://dx.doi.org/10.1590/S2197-00252013000300001.