You are tasked to find that all-important next big thing—how do you find it amongst the deluge of information on the web? It's like finding a needle in a haystack, and the haystack keeps getting bigger.
Crowdsourcing and Google searches are shotgun approaches to idea gathering and can take huge amounts of time to sort through the information, as well as large sums of money. Smart organizations use methods of technology scouting that rely on strategic thinking and leverage advanced tools to focus their energy.
First, let's clear up one misconception: crowdsourcing doesn't live up to the hype! In a recent Harvard Business Review article, Guido Jouret, CTO of the Emerging Technologies Group at Cisco, wrote about the twin pitfalls of cost and time: "The evaluation process was far more labor-intensive than we'd anticipated; significant investments of time, energy, patience, and imagination are required to discern the gems hidden within rough stones," he wrote. "Anyone attempting to do innovation on the cheap should look elsewhere."
A big part of the problem is that crowdsourced ideas are not fully developed or carefully screened. In fact, according to Chesbrough and Brunswicker, in their 2013 article, "Managing Open Innovation in Large Firms," "…crowdsourcing or specialized open innovation intermediary services play a rather minor role despite the raising [sic] interest in business press and academic literature. To implement their open innovation practices, firms work with a variety of different innovation partners and sources, with customers and universities rated as the most important."
To escape these dangers, focus your attention on search tools that a professional tech scout can leverage to capture technology opportunities with partners.
The scout can strategically search for offerings to minimize the evaluation effort without eliminating the unknown unknowns. Rather than using typical Internet searches that don't find everything, federated search explores sources simultaneously in real time. While only a small percentage of the web's technical content is crawled and available via Google, Wellspring searches uncover and expose the desired information.
Federated search automatically pulls data from multiple sites — such as patent, publication, expertise, and invention databases — to find the content hidden below the surface. Without it, users have to manually enter submission forms for each individual search site which is very time-consuming. The federated search tool handles the interaction with each content site so there is no need to perform this dreary task manually.
Federated search — when performed correctly — then aggregates, ranks, and de-duplicates search results to streamline what the user reviews. Both form submission and aggregation actions are tricky and difficult to accomplish.
The result of a federated search is a major win by simplifying user input and offering rich data output.
The scout only submits one search query, and receives the most relevant high quality set of results.
With Wellspring's Search Once Scouting tool, over 100 million records from over thirty authoritative sources are simultaneously searched and presented in the Wellspring for Technology Scouting and Corporate Venturing software solutions. Users can select a search result and dynamically import it as a new opportunity record with no data entry. Firms can then quickly route and evaluate technology and investment opportunities. Unlike spreadsheets, databases, or document-sharing systems, all opportunities can be managed with sourcing and investment processes united in one place, ensuring true collaboration and the application of best practices.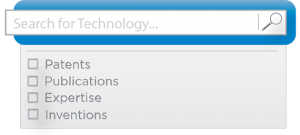 If you are interested in learning more and seeing the Search Once Scouting tool in action, you can watch the replay of the "The simpler way to find and manage technologies" webcast from Dec. 2 at 1 p.m. ET.
In later blogs, we will cover in more detail how to manage your technology and investment opportunities.