The SRA International Annual Meeting was a tremendous event for networking and education. I had the opportunity to speak at the SRA talks to discuss what's wrong with sponsored research administration and what you need to address these challenges. The following blog summarizes my presentation.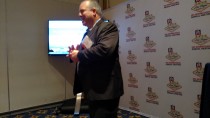 To begin, the process of seeking and obtaining external funding for research can be challenging. Sure your principal investigator (PI) has done the homework to find available funding options, but we all know the fun starts when you have to prepare a proposal and get it approved. Your institution will want you to fill in all the blanks to ensure that you submit a competitive proposal to the funding agency. The amount of tedious administrative paperwork can be daunting as you route it to all interested parties. Here are just a few examples of questions you may be asking yourself.
Are you able to quickly and clearly communicate your developed budget for buy-in?
Are you wasting time hunting for information to complete your forms such as IRB and COI?
Is routing for approvals slow and cumbersome?
Is the negotiation process inefficient due to poor visibility of all necessary submission elements?
All of this can delay securing your research funding.
The good news is that you will win research grants. Once the award is accepted, the challenge is complying with the project terms and conditions. Moreover, there are at least 406 regulations of which US universities must today be aware.
All of this means your research team needs full knowledge of what they are committed to and they capture and report on their activities to confirm compliance. Otherwise, violations can lead to loss of future funding, significant financial penalties, damaged reputations and careers, debarment from research, or imprisonment.
However, organizations that follow what seems the easy way lose visibility. Why? Because the status quo is that research knowledge assets are scattered inconsistently across desktops, spreadsheets, post-it notes, email, SharePoint, and any other number of difficult-to-search nooks. Moreover, with this decentralized approach, reporting is time-consuming and difficult.
For instance, during the maintenance process, data corruption in spreadsheets can introduce process errors. Did you know that 88 percent of spreadsheets(1) in the wild contain input errors? And do not get me started on the security threats to which you expose yourself by emailing everything, including the master spreadsheets, to manage. This flies in the face of data management regulations.
Be systematic
Institutions should have a systematic solution to help you manage and commercialize research efficiently. Everyone in the enterprise should "Know What You Know."
A properly designed software solution streamlines the organization and captures all research life cycle activities in one place. With the information captured, you can easily access and report efficiently. Reports should take minutes to assemble, not days or weeks.
Efficiently administer the work
Once the PI comes up with a brilliant research project, he or she should create a project repository. All related project materials and information should be linked to help better coordinate activities and decisions. Critical information such as key dates, people, and organizations (both prime and subaward) would all be located in the same place.
All other necessary submission materials are pulled into the project repository. Budgets can be developed and documented, and forms and bios can be added. Documents can be added and made fully searchable. To keep the team on schedule, workflows with assignments and due dates should update dynamically as the work progresses. Workflows can also be used for the approval process. Once the proposal has been approved by your institution, it can be submitted.
Professionally administer the contract
Once awarded, the institution must administer the contract. Contract management, along with financial management, should be built into a solution to help you with post-award and compliance. Your agreements, such as grants, partnerships, sponsorships, and material transfer agreements, can be added to the system to help you with negotiations and then to help oversee your obligations, both financial and non-financial.
We recommend that you integrate accounting systems so that you can manage receivables as well as other budget expenses and income. An integrated approach enables you to run reports to help bridge the gap between what happened and why. See success rates by researcher, funding by agency, and other trends with visual reports. You can also use the tools to close out and submit your reports.
Protect and commercialize research
The researcher's journey does not end with the research project. Researchers can submit invention disclosures based on project findings. Savvy institutions use online research portals to speed up and simplify the disclosure process.
Institutions and researchers will likewise want to protect their discoveries by managing their intellectual property. They will want to use IP tools to ensure that patents are maintained properly and do not fall through the cracks. The institution may choose to work with the tech transfer office to license new technology and use Wellspring's industry-leading Tech Transfer software to commercialize it.
This article summarizes just a few of the challenges of acquiring and managing external funding and how to address them. Wellspring has experience in this arena with its built-for-purpose sponsored research software. For more information, you can visit our sponsored research product page at www.wellspring.com/grants-admin or contact us directly.
1 - Panko, Raymond. "What We Know About Spreadsheet Errors." Journal of End User Computing Volume 10, No 2, 2008, 15-21