To those of you who did attend,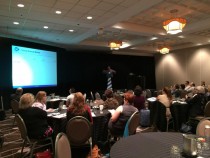 thank you for making the 2015 Wellspring User Group Meeting our most successful user group meeting to date. The event was a tremendous success for us, and we received very helpful suggestions for the continued improvement of Wellspring products and client communications. Our networking events were full of great conversations, best practices, and debates. This year also included 13 distinct training sessions to help our clients get the most out of Sophia.
For those of you who were unable to make it, here are three quick takeaways from this year's event:
1. The new Wellspring platform is finally here!
After countless hours of development, market research, testing, and production, we were finally able to unveil the new Wellspring product. This new platform offers more flexibility, faster loading times, and an improved user experience. Key features include the Search Once Scouting Tool, an advanced reminders calendar, and graphical reporting tools. The new Wellspring platform is already available for the Tech Scouting and Venture Management modules, and some great new features such as the reminders calendar will be migrated to the Sophia platform as well. Learn more about the new Wellspring platform here.
2. The Help Center will save you time and headaches.
Wellspring has officially moved all customer help questions over to a new platform. This new system will serve as a repository for training, in-depth articles, and Sophia product features. Now all of your product questions can be answered quickly and in one centralized place.
The "Contact Wellspring" link in the Sophia application will be renamed "Help Center" and will automatically log you into this new system. Note, this is the ONLY way to access the Help Center, so be sure to set up your login today. An account will automatically be created once users click on "Help Center." By default, all users have been granted access to this feature. This permission is modifiable in Manage Permissions and is located under Site Navigation and listed as "Help Center."
3. We can help you integrate with outside systems!
Wellspring staff have worked hard to make sure that our customers are able to use Wellspring products in conjunction with other critical systems. In fact, Sophia functions best when integrated with your other software applications, and we now offer full integrations with SAML/LDAP, DocuSign, and various HR and financial systems. The integrations eliminate time wasted from duplicate entry and allow full visibility from one solution. For more information about system integrations specific to your organization, contact solutions@wellspring.com
There was much more covered at the event, just ask all our customers who made the trip to Chicago on October 8 and 9. As always, we are here to help; if you have any further suggestions on how we can improve customer interactions, please do not hesitate to contact us.